Rossetti was born in London, son of Gabriele Rossetti, who had come to England in 1824 and was professor of Italian at King's College, London. He had three siblings and all were artistic. His sister Christina became as distinguished a poet as her brother. His brother William Michael was an art critic and, Maria Francesca, published a commentary on Dante and became an Anglican nun. Rossetti's name was Gabriel Charles Dante Rossetti but he changed the order of his name to stress his Italian antecedents and his relationship to Dante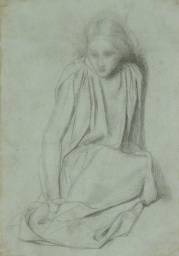 From the start Rossetti divided his time between painting and literature. He showed an early talent for poetry winning acclaim for The Blessed Damozel at eighteen. He was an admirer of William Blake and succeeded in buying one of Blake's sketchbooks with ten shillings borrowed from his brother. After studying at Sass's drawing academy for four years, in 1846 Rossetti was enrolled at the Royal Academy Schools. However, he was impatient with the painstaking methods of the Academy and abandoned his studies there to work under Ford Madox Brown. In 1848 he met Holman Hunt, and they shared a studio together for a time. In 1848 he, William Holman Hunt, and John Everett Millais began to call themselves the Pre-Raphaelite Brotherhood.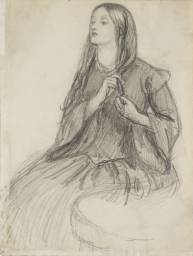 Rosetti's range of talents and interests, combined with his energy and enthusiasm, made him a central figure in the the group. A commission to cover the walls of the Oxford Debating Union with Arthurian murals introduced Rossetti to William Morris, Edward Burne-Jones, and A.C. Swinburne in 1856. Rosetti attracted the young Burne-Jones and William Morris to the Pre-Raphaelites.
He exhibited his first major oil painting, The Girlhood of the Virgin Mary at the Free Exhibition in March 1849. In September and October of that year he visited Paris and Flanders with Holman Hunt. He also met his future wife and frequent model Elizabeth
Siddall late in 1849 and they married in 1860. In 1862 she died from an
overdose of laudanum and Rosettie buried his poems in her grave.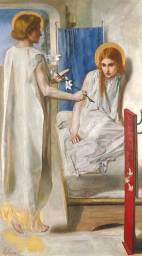 He was largely responsible for the Pre-Raphaelite magazine The Germ, published in 1850. In April 1850 he exhibited Ecce Ancilla Domini! at the National Institution. The critic for the Athenaeum wrote that it was 'a work evidently thrust by the artist into the eye of the spectator more with the presumption of a teacher than in the modesty of a hopeful and true aspiration after excellence.' and Rossetti vowed never to exhibit in public again. However, he continued to work on the picture until 1853, when it was sold to Francis McCracken of Belfast, an early patron of the Pre-Raphaelites, for £50.
From 1854 he became friendly with John Ruskin who helped bring the Pre-Raphaelites to public attention, and in 1855 with the poet Robert Browning. In 1856 he was a contributor to Morris's Oxford and Cambridge Magazine. In 1857 he met Jane Burden who married William Morris but she and Rossetti had an intimate relationship over a long period. In 1858 Rossetti founded the Hogarth Club, an exhibiting and social club, with Madox Brown and others. Around this time Fanny Cornforth became his primary model and mistress for the next decade. Rossetti's translation of The Early Italian Poets was published in 1861. From 1861 Rossetti was also involved with Morris, Marshall, Faulkner & Co. in their attempts to return to medieval craftesmanship. Stained-glass windows became by far their most important product. However, the firm was always infinancial difficulties and was often subsidized by Morris.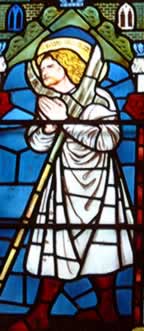 Rosetti's design for Christ Church Southgate is in the South West corner of the church on the West wall. The left hand figure of St James is the work of Burne Jones. The right hand figure of St Jude carrying a halberd is the work of Rosetti. Both figures are surmounted by angels carrying shields and according to Sewter 'the half length angels are undocumented but must be by D.G.Rosetti.' The canopies are both by Philip Webb whose account book records, 'extra work in ventilator pattern work
to the west wall of aisle, Southgate….10/-'.
From the mid-1860s Rosetti began suffering from eye trouble and insomnia, and showed signs of paranoia. In October 1869 he exhumed his wife's coffin to retrieve his Poems, which were published in 1870. The book was a success but caused a controversy when it was reviewed in 1871 by Robert Buchanan in an essay called "The Fleshly School of Poetry". Buchanan argued that Rosetti's book was full of indecencies and this started a series of further attacks, defenses and counterattacks. Rossetti wrote an essay of self- defense called "The Stealthy School of Criticism". Rosetti's health broke down in 1872 and he abandoned many of his old friendships. He spent long periods at Jane and William Morris's Kelmscott Manor between 1871 and 1874
By 1875 it was necessary to reorganize the Morris firm. Rossetti, who was ill by thi
s time, and suffering from a persecution complex, retired, and was given £1000 as compensation for the loss of interest. Rossetti thought this was too little and he and Morris had a bitter quarrel over the matter, though there were other factors underlying the affair. A new edition of Poemswas published in 1881 together with Ballads and Sonnets.. He died at Birchington-on-Sea, Kent.