James Henry Leigh Hunt (1784 – 1859)
Leigh Hunt was the youngest son of Isaac Hunt, born on the 19th October 1784 at Eagle Hall, Southgate (previously situated near the Meadway). He was named after the Duke of Chandos' nephew. Isaac had delivered a sermon on a visit to Southgate, and impressed the Duke of Chandos who asked him to tutor his nephew. Sources vary as to the reason why he named his son Leigh Hunt. It may have been at the express wish of the Duke or because Isaac sought advancement in the ducal favour. Isaac was a loyalist who left the shores of Barbados during the American War of Independence and was according to his son 'better suited to Barbados'. Perhaps Leigh Hunt was inferring that his father's love of pleasure and laxity in financial affairs was more suited to Caribbean shores, but he himself inherited the same character traits.
Father and son also had a prison sentence in common. Isaac went to debtor's prison in 1789 and Benjamin West, a painter and uncle by marriage, helped out by persuading George III to grant Isaac a loyalist pension of £100 per year. Fortunately for Isaac and his wife Mary, other friends also gave assistance by sending the children to school. There were six children but two died in infancy. Hunt was five when his sister died with the result that he was a cosseted child raised by an anxious mother who did not enjoy good health.
As he grew up Hunt developed an interest in politics and poetry. He became friends with other young writers who favoured political reform including Percy Bysshe Shelley, William Hazlitt, Henry Brougham, Lord Byron,Thomas Barnes and Charles Lamb. As well as writing poetry and articles on politics, Leigh Hunt worked as a drama critic for the News. In 1808 Leigh Hunt helped his brother, John Hunt, to start a political journal called the Examiner. The journal gave support to radicals in Parliament such as Henry Brougham and Sir Francis Burdett and the political ideas of people like Robert Owen and Jeremy Bentham.
Leigh Hunt upset the authorities by pointing out on the front page of every edition of the Examiner that half the cost of the price was the result of the government's "tax on knowledge". In 1812 Leigh and John Hunt were arrested and charged with libel after publishing an article criticizing the Prince Regent. Hunt called the Prince Regent 'a fat adonis of forty'.The brothers were found guilty and sentenced to two years' imprisonment and a £500 fine. In prison Leigh Hunt continued to edit the Examiner. Keats wrote of his prison sentence
Written on the day that Mr. Leigh Hunt left Prison

What though, for showing truth to flatter'd state,
Kind Hunt was shut in prison, yet has he,
In his immortal spirit, been as free
As the sky-searching lark, and as elate.
Minion of grandeur! think you he did wait?
Think you he nought but prison walls did see,
Till, so unwilling, thou unturn'dst the key?
Ah, no! far happier, nobler was his fate!
In Spenser's halls he strayed, and bowers fair,
Culling enchanted flowers; and he flew
With daring Milton through the fields of air:
To regions of his own his genius true
Took happy flights.
Who shall his fame impair
When thou art dead, and all thy wretched crew?

John Keats. 1884.
Byron who liked to 'study character in such situations' considered that Hunt was 'unshaken' by the experience and would continue to be so, but years later he thought 'the Surrey gaol' had 'conceited him into a martyr'.
After his release from prison, Leigh Hunt continued to edit the Examiner until 1821. The following year Leigh Hunt traveled to Italy with Byron and Percy Bysshe Shelley. The three men published a radical political journal called The Liberal in Italy as a way of avoiding prosecution by the British authorities. The first edition was mainly written by Leigh Hunt but also included work by William Hazlitt, Mary Shelley and Lord Byron's Vision of Judgement and sold 4,000 copies. The venture was abandoned after four editions and in 1823 Leigh Hunt returned to Britain.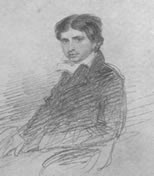 Keats and Shelley were closely associated with Hunt. On Shelley's wedding night Leigh Hunt by Thomas Wageman Keats and Hunt sat at Hunt's fireside in the Vale of Health, Hampstead, penning sonnets for a competition. Although Hunt was 'mesmerized' by Shelley, his influence did not extend to making him financially responsible. Shelley suggested to Horace Smith, who had made a lot of money stockbroking and lending, that he ask Hunt to edit his manuscript. Hunt accepted for a fee of £100 but forgot about Smith's poems, and lost them. Hunt must have exerted much charm and influence, because his friendship with Smith survived, but Shelley was the awkward middleman who knew of Hunt's habit of running from one debt to another.
Hunt though described as a genuinely 'good person' was insensitive to the problems caused by his mismanagement of money. We would call him a romantic both in appearance 'with his jet black hair and expressive mouth' and in his sentiment. When Shelley took up residence in Great Marlow, the Hunts followed and shared the 'large damp house with numerous bedrooms, attics, and spacious communal rooms including a library stocked with books and an acre of walled garden.' Hunt also shared Shelley's revolutionary obsessions and his enthusiasm for the innocent eroticism of classical Greek writers. Here was modern Arcadia on the doorstep and they play-acted at a mock altar to Pan in the woods. Hunt's 'political ardour' was also aroused because Shelley taught him how 'to balance the tensions between politics and literature.'
In 1818 the Hunts moved to Lisson Grove Paddington where Marianne gave birth to their fourth son who they christened Percy Bysshe Shelley Hunt. The Hunts still dependent on Shelley for their welfare, were dismayed that he planned to move to Italy for health reasons, but Shelley because of a forthcoming inheritance was able to borrow the princely sum of £1,400 before his departure to compensate. This was equivalent to 22 years'wages for a skilled working man of the period.
In 1822, Shelley was drowned when his yacht sank in La Spezia. Help for the widowed Mary Shelley and provision for the Hunts then fell entirely on Byron. What it is to have friends !
Of Hunt's poems, one that has featured in pupils' poetry books in the past is:
Abou Ben Adhem

Abou Ben Adhem (may his tribe increase !)
Awoke one night from a deep dream of peace,
And saw, within the moonlight in his room,
Making it rich, and like a lily in bloom,
An angel writing in a book of gold:-
Exceeding peace had made Ben Adhem bold,
And to the presence in the room he said, 'What writest thou ?' – the vision raised its head,
And with a look made of all sweet accord,
Answered, 'The names of those who love the Lord.'
'And is mine one ?' said Abou. 'Nay, not so,'
But cheerily still; and said, 'I pray thee then, Write me as one that loves his fellow-men.'
The angel wrote, and vanished.
The next night It came again with a great wakening light,
And showed the names whom love of God had blessed
And lo !" Adhem's name led all the rest.
More poems by Hunt can be found at Sonnet Central and Representative Poetry Online
In later life Leigh Hunt's books included Lord Byron and Some of his Contemporaries (1828), Christianism (1832), Poetical Works (1844), Autobiography (1850) and Table Talk (1851). James Leigh Hunt died in 1859. His son, Thornton Leigh Hunt (1810-1873), also became a successful journalist. Hunt's gravestone is Kensal Green reminds us that he was 'one that loved his fellow-men.' It was evident by the help that was given him that 'his fellow-men' loved him.
Jill Sibley
Bibliography:
A portrait of Leigh Hunt – Blaney (1985)
The story of Southgate and Winchmore Hill – Walker Ground (1906)
Lord Byron, Lives and Letters – edited by Peter Gunn
With thanks to Mr. Dalling, Historical Librarian, Palmers Green Library