Designed By Sir Frederick Gibberd, 1936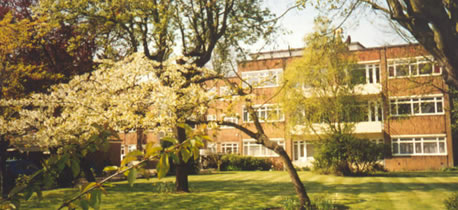 What makes this building special?
Enfield's only legacy by one of Britain's foremost Modernist architects,Sir Frederick Gibberd.
Southgate Green's only Modernist multi-residential dwelling
A building with innovative building techniques
Frederick Gibberd designed Ellington Court, an unconventional-looking block of flats in the heart of Southgate Green Conservation Area, in 1936. It remains one of the few examples of Gibberd's early private commissions, completed before he was 30, and long before his contributions to the Modernist architectural movement in Britain were fully recognised and awarded. Located just off the High Street, Southgate, Ellington Court is brick built, and reflects Gibberd's ideas on design and building methods which were later to become standard in post-war large-scale housing schemes.
Sir Frederick Gibberd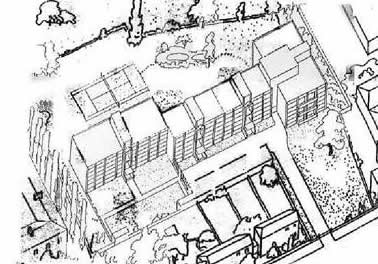 Frederick Gibberd, born in Warwickshire in 1908, started private practice as an architect in 1930. He designed Ellington Court when he was 28 and Pullman Court, Streatham, a year earlier. His best known works include London Airport terminal buildings and Chapel, Bath Technical College, Liverpool Roman Catholic Cathedral, Douai Abbey, Designs for the New Town, Harlow, Doncaster Law Courts, Coutts Bank (Strand), The London Mosque. His principle town designs included Harlow New Town (1947-80), the master plan for Memorial University, Newfoundland; Civic Centres for Doncaster, Nuneaton, Leamington Spa, Harlow and St. Albans. Shopping Centres designed by Gibberd included Lansbury Market, Redcar, Harvey Centre, Harlow; and Stratford upon Avon.
He was awarded CBE in 1954 and knighted in 1967. He was a member of the Royal Fine Art Commission (1950-70) and RIBA Council 1959-76. He was also a President of Building Centre, and of the Architectural Association School of Architecture. He received a Hon LLD from Liverpool. In 1969, he won the RIBA Bronze Medal and a Gold Medal from the RTPI in 1978. He held two Festival of Britain Awards, four Housing Medals, ten Civic Trust Awards and two European Architectural Heritage Year awards.
As a young architect in the thirties, Gibberd travelled widely in Europe and studied the classical examples of design and craftsmanship which influenced his ideas on town design.
He was a founder of Modernist British architecture and wrote the definitive book on town design where he described exemplar features of successful residential developments. In Town and Village Design (1953), Gibberd discussed at considerable length the arrangements of buildings within existing landscapes, street patterns and correlations of form, spatial layout of buildings, and quality design. Successful design relates to the environment. It should produce a series of pictures that have a satisfactory composition rather than a simple standardised arrangement. In town design, the dominant quality of a single building is its mass and the spaces around buildings relate the architecture to the landscape and other existing buildings. Gibberd urged students of town planning to examine every kerbstone and detail of a proposed site to consider all aspects of a new composition. This included existing buildings, natural features of trees and groundscape, roads and accesses and the orientation of the site in relation to other sites.
High Street and Southgate Green in 1935
When Gibberd was commissioned to design a block of flats for the site of 'Church fields' a wooden Victorian house set behind other cottages, much new residential development had taken place in Southgate. What did the immediate area look like then, which may have influenced his design? Southgate had been subjected to developers' fever since the early 1920s when the extension of the Piccadilly Line was certain. By 1934, Holden's pristine looking Southgate Circus was complete. The large estates which just ten years earlier had given the area a semi-rural quality were disappearing quickly and many wooded areas flattened to make way for new neighbourhoods.
From Southgate Circus, walking south to Southgate Green, the lands of Lord Mayfield had been developed forming the neighbourhood of Mayfield Avenue, Bladgen's Lane and Blagden's Close. On the eastern side of the High Street, the Meadway Estate, a neighbourhood of neo-Tudor style had also been largely completed by the mid-twenties. The Green itself- had had its central pond drained ten years prior and the Minchenden Estate with its over 700 semi-detached houses covered the southwest areas from the Green to Arnos Park.
The character of the High Street surrounding the site of where Ellington Court was to be erected remains today largely intact as he might have viewed it then. Between Blagden's Lane and The Green, it was a mixed area. The west side of the High Street had Victorian and Georgian cottages that intermingled with tradesmen workplaces. A butcher, baker, pub, dealer etc., were located there. To the north of the proposed site, a large farmhouse, Eagle Hall (Leigh Hunt's birthplace) and Holly Lodge – residences, which stood adjacent to a timber yard, were still visible. The east side of the High Street had a row of Victorian cottages – Shakespeare house that survived until the mid-sixties. The proposed landlocked site of Ellington Court had a row of Victorian cottages and Georgian-wooden clad buildings fronting the High Street (no 15-17 received Grade II listing last year). To the southwest, Arnoside and Essex House, mid-Georgian terraced houses with Coach Houses (Grade II listed) were adjacent. To the southeast of the site, overlooking the Green, permission had been granted a few years earlier for the demolition of Grove House. By the time Gibberd was surveying the site of 'Churchfields' for Ellington Court, Chandos Court, a development of four blocks with 40 flats, was complete. To the west of the site lay the Walker Cricket Ground with view towards Christ Church.
Different architectural styles of buildings which Gibberd might have noted in studying the Green and surrounding area in 1935
Little is known about who commissioned Gibberd to design Ellington Court, but his connection with Enfield may well have started at that time and continued through the post-war period when he became the principal planner for Harlow. Cllr. Tommy Joyce, Labour leader for Edmonton Council was the Vice-Chairman of the Harlow Development Corporation, and it is surmised that it was Joyce who approached Gibberd in the early 1950s to offer his architectural expertise in outlining plans for Edmonton Green. The eventual plans for Edmonton display little of Gibberd's input although he did design Durbin House, a social housing unit, which was inaugurated in 1955 in honour of a popular MP for Edmonton who had met an untimely death in 1948.
Gibberd's connection with Southgate may also have started with Charles Holden. As a contemporary architect bringing the new Bauhaus ideas to Britain, he worked with a number of well-known members of the Modern Architectural Research Group(MARS), which included Wells-Coates, Raymond McGrath (who also worked on Harlow), Basil Ward and Colin Lucas. In Pullman Court, his modernist design was of a greater scale than Ellington Court.
Special Features
Ellington Court was luxury communal living with the best of what technology had to offer at the time. All flats had central heating and power points in all rooms; built – in cupboards and fitted kitchens. The amenity space included a tennis court for residents and a pond. Natural ventilation was also installed.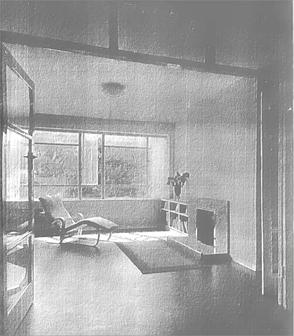 The interior features of Ellington Court, recorded in Parthenon and Architectural Review, are still present in some of the flats. Sliding doors, marble fireplaces, tradesmen hatches (visible still within the flats – though not from the hallways), and fitted closets remain. There is even at least one kitchen, designed by Gibberd, with an original stainless steel sink and built in counter that fits flush to the window opening. Much modernisation work on the block has taken place over the last several years and it is important the remaining original features are not removed. The stairwell remains although recent redecorating has added wall panels that are out of keeping.
Town Planning History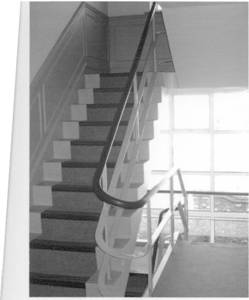 When Gibberd first submitted his plans for the site of Churchfields, these were refused in May 1936. The reasons given in the Town Planning minutes were that the building would be injurious to the amenities of the area. However, within two months, revised plans were submitted and approved, subject to a legal agreement. This agreement stated that the building was to be brick-faced on all elevations. We can only surmise that the original submission, similar to that of Pullman Court, was of render which the planners found clashed with the surrounding brick and wooden structures in Southgate Green.
There were a number of other conditions that were made the subject of a legal agreement:
Access to the proposed Ellington Court required the demolition of a pair of Georgian cottages; and the area they had occupied in front of Ellington Court was required to be preserved as Public Open Space.
Additionally, local bye- laws required that the standard footpath width was 10 feet. The demolition of cottages fronting the High Street meant a compulsory donation to meet this requirement.
No 'wireless' radio service to be erected on the land
No additions made to the said flats
Ellington Court gradually became less than the salubrious address it enjoyed in the post-war era.
In 1998, planning permission was granted for the addition of a fourth floor and a further 12 flats. At that time, the existence of this legal agreement was not known. That application was not implemented and became the subject of a renewal application last year. It was passed in October 2005 but the variations to this old legal agreement are still being discussed.
Southgate Green Association gratefully acknowledge assistance from the Museum of Domestic Architecture and Graham Dalling, Borough Historian in gathering information about Ellington Court.