The Cherry Tree on the Green in Southgate has been in existence for 400 years. There was a Cherry Tree Inn recorded when the land was given to the poor of Barnet by Valentine Pool in 1624 and there are rental records of the Cherry Tree going back to 1721. Captain Wade, a retired sea captain who was landlord in 1888, was responsible for planting a cherry tree on the 'island' in front of the building but over the years, this may have been one of many. The name of the pub is now synonymous with The Green and the area is graced by some of the prettiest flowering cherries.
Bert Plumb was landlord from 1909 – 43 and he must have seen some great changes in the area because although largely rural after World War 1, once the Piccadilly Line reached Arnos Grove in 1932, development advanced at a pace. He was also a founder member of the Selborne Bowling Club. Under the Green Belt policy, Southgate was prevented from major expansion, but there has been progressive demolition of older houses to make room for flats, a practice which has accelerated in recent times leading to the loss of some of Southgate's architectural history.
The Cherry Tree has had its additions; the buttresses and porch were added in 1923 to stop the walls from bulging, but if you look at the left hand side of the archway entrance you will find signsThe Cherry Tree before the Bass takeover of a history that goes back further. Before the sound of horses' hooves were replaced by the roar of traffic, the Cherry Tree was a Posting House. The Post Coach would stable its horses at the inn overnight and the holes in the entrance to the inn yard allowed for the poles to be stored for the night. For over twenty years the Cherry Tree had an ostler known as Blind Phil.
More recently The Cherry Tree has been re-furbished as a Bass Travel Lodge.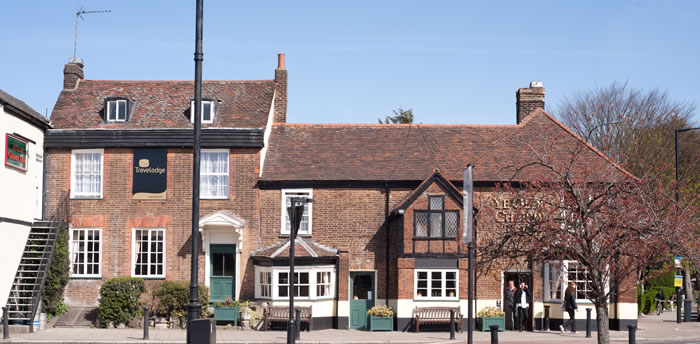 Jill Sibley